China jails prominent human rights lawyer Jiang Tianyong
A prominent Chinese human rights lawyer has been jailed for two years, the latest conviction in Beijing's crackdown on rights activists.
Jiang Tianyong was found guilty of inciting subversion of state power and defaming China's political system.
His wife told Reuters that the verdict was unacceptable. Amnesty International dismissed the trial as a "sham".
Mr Jiang was an outspoken critic of the government's crackdown on dissenters, representing some of those rounded up.
It is estimated that more than 300 lawyers, legal assistants and activists have been questioned, and more than two dozen of these pursued as formal investigations.
Mr Jiang defended human rights activists and fellow rights lawyers as well as also Falun Gong practitioners and Tibetan protesters.
The court also found the 46-year old guilty of using social media to attack the Chinese government and of inciting others to demonstrate in public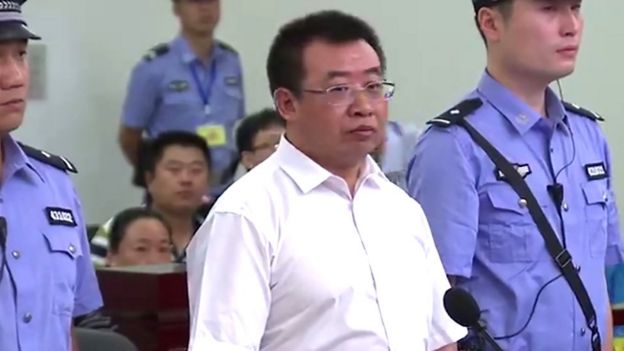 She said his family had been unable to contact him since he first disappeared in November 2016 on a trip to visit the family of fellow rights lawyer Xie Yang who was held by the authorities at the time.
Jiang Tianyong in court in AugustImage copyrightAFP
Image caption
Jiang Tianyong was put on public trial in August
Mr Jiang was put on trial in August where according to state media he read out a confession, telling the court he attended overseas training sessions encouraging him to reject China's political system.
Human rights groups have described the trial as an effort to discredit the lawyer as a part of what critics describe as China's "war on law".